Rhinoplasty 101 - What You Need to Know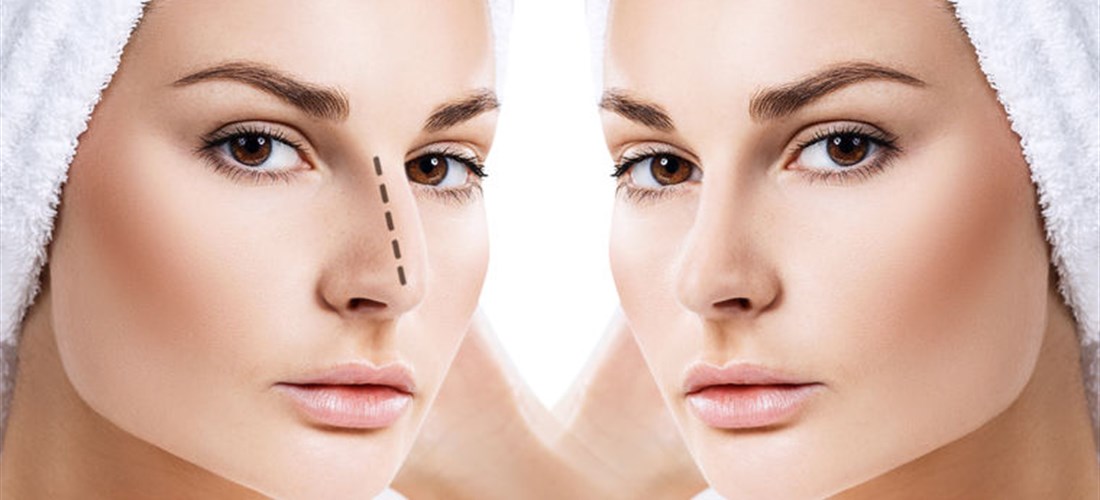 We believe that our patients should be fully educated before undergoing any kind of plastic surgery. That's why we're introducing our "
Plastic Surgery 101 Guides
". Each article in this series will tackle a different procedure available at Wilmington Plastic Surgery and Skin Care MedSpa, going over the surgery from beginning to end, to help our patients get the information they need. We're excited to start this series of guides by discussing everything you need to know about rhinoplasty.
What is Rhinoplasty?
Rhinoplasty is one of the most common plastic surgeries in the world.
Known to many simply as a "nose job," rhinoplasty is a procedure designed to reshape the nose. Though the adjustments made during a nose job may seem small, they can make a huge difference in the patient's appearance and self-esteem. Rhinoplasties can also be used to improve the function of the nose, as it is sometimes done for those with deviated septums.
Rhinoplasty Consultation and Goals
The first and most important step you should take when considering rhinoplasty is finding the right plastic surgeon. At Wilmington Plastic Surgery, all of
our surgeons are board-certified
and have years of experience under their belts.
The next step is your consultation and physical exam. This is a good time to bring up any questions you may have and browse through past patients' before and after photos. During this meeting, your plastic surgeon will also take before photos of your nose and digitally alter them to show you a projection of what the finished product will look like.
Your consultation is also when you'll discuss your goals and expectations for rhinoplasty. Generally speaking, the number one goal for most rhinoplasties is either to give the nose a more natural look or to improve the patient's ability to breathe. Some more specific goals may include:
Reducing a pronounced dorsal hump
Adjusting nose width
Straightening a crooked or asymmetrical nose
Repositioning the tip of the nose
Decreasing the size of the tip of the nose
Resizing the nostrils
Repairing the results of an injury or accident by restoring the nose to its former appearance
Rhinoplasty Candidacy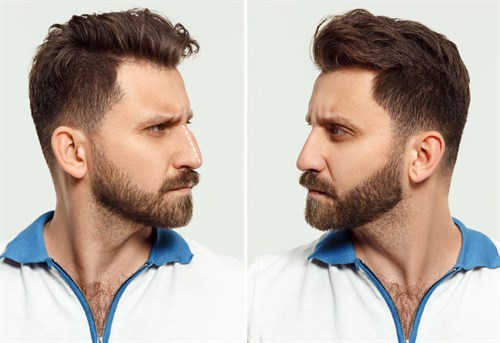 Ideal candidates for rhinoplasty would be men or women who are done growing. Generally, this means they should be at least 18 years old. Candidates also need to have realistic expectations and be able to understand how rhinoplasty works.
Additionally, your doctor will strenuously review your medical history and any medications you may be on to ensure you are a good candidate. Your doctor may also ask you to quit smoking and/or consuming alcohol prior to the surgery, as both of these substances can affect your blood flow and inhibit the healing process.
In order for your surgeon to provide the highest standard of care, it is extremely important that you are honest regarding your medical history, medications, and any other substances you regularly consume. Failure to disclose this information to your doctor could result in heightened risks, complications, and a more strenuous healing process.
Types of Rhinoplasty
The entire procedure typically takes no longer than three hours, depending on what type of rhinoplasty is best for you. There are two main rhinoplasty procedures: closed and open.
Closed rhinoplasty is typically used for minor adjustments. It is performed by making small incisions inside the nose, separating the skin from the bone, and reshaping as needed.

Open rhinoplasty involves incisions in the skin under the nose as well as inside the nose and is used in more invasive rhinoplasties.
Additionally, revision rhinoplasty is available for patients who need corrections after a previous procedure. This is most common for patients who had their first rhinoplasty to fix breathing issues and need secondary rhinoplasty to make necessary adjustments.
At Wilmington Plastic Surgery, we also perform filler rhinoplasty. This is the non-surgical version of a nose job where we use injectables,
like Juvederm®
, to reshape the nose instead of operating on it.
Risks of Rhinoplasty
Rhinoplasty risks are minimal when you follow your doctor's orders and work with the
experienced team at Wilmington Plastic Surgery
. That said, as a surgical procedure involving anesthesia, rhinoplasty has inherent risks, including:
Infection
Bleeding
Nerve damages
Permanent numbness around the surgical site
Swelling
Scarring
Pain
Bruising/discoloration
Life-threatening blood clots
All rhinoplasties also carry the risk that they will negatively affect the patient's ability to breathe. In these cases, revision rhinoplasty is often required to remove nasal obstructions.
Rhinoplasty Recovery
After your nose job, you will probably experience some pain as a result of the procedure, nose packing, and your splint. You'll be given some pain medication to help you with any discomfort. Elevating the site and using a cold compress can also help relieve swelling and pain after rhinoplasty.
Once your splint is removed and your bruising and swelling decrease, you will begin to feel a lot more comfortable with your new nose. Your doctor will have specific healing instructions for you, like how long to refrain from exercise or blowing your nose.
You can also help ensure a speedy recovery by treating the surgical site delicately. This means avoiding clothes that must be pulled over your head, limiting strenuous facial expressions, wearing sunscreen, and being gentle while brushing your teeth or showering.
Board-Certified Plastic Surgeons in Wilmington, NC
If you are looking for rhinoplasty in Southeastern North Carolina, look no further than Wilmington Plastic Surgery and Skin Care MedSpa. We also offer a variety of other procedures that can be easily paired with a nose job, including
facelifts
,
eyelid surgery
, and
brow lifts
. Contact us for a
free rhinoplasty consultation
at 910-509-SKIN (7546), or stop into any of
our locations
to tour our facility and meet our staff.